As much as I love
Post-It Note Tuesday
with
Supah Mommmy
, I decided I wanted to try something new this week. Us Scatterbrained Gals like to switch it up every so often, ya know?
Anyway, I stumbled across this great little meme from the
Undomestic Momma
called Top 2 Tuesdays. Every Tuesday, she presents a category and then you give your own Top 2 "things" in that category.
Catchy title? Cute button? Fun and easy? I'm in!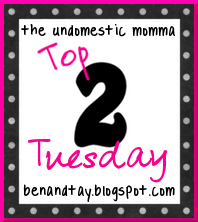 Today's category is Top 2 Things You Can't Live Without (or, more specifically, Top 2 Things You Would
Not Like
to Live Without).
And, here are my 2 things:
1. Coffee
Not only do I love coffee almost any way I can drink it - iced with blueberry, vanilla latte, frozen mocha, caramel macchiato, cinnamon dolce latte, coffee frappaccino (you get the idea) - but, I am addicted. Seriously. I have cut back recently, but goodness knows if I don't get my cup 'o joe in the AM, my head will be pounding and I will dragging all day. It's pretty pathetic, I know. But, I still love my coffee.
2. My Camera
I'm not a professional photographer by any stretch of the imagination, but I just love being behind the camera. I got my first one (a Sony Cyber Shot) when I was 13, and fell in love immediately. I love documenting events, I love snapping photos of scenery and animals, I love that I have
tons
of photos to look back on, and I love the memories you can create with just a well-timed press of a button. It's a beautiful thing!