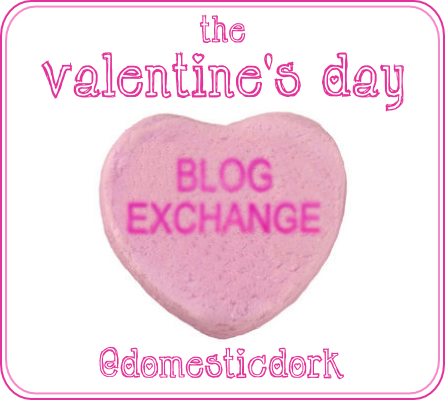 Last night, I had the pleasure of meeting Steph from
A Grande Life
for the
Valentine's Day Blog Exchange
hosted by Holly from
Domestic Dork
(thanks for hosting, Holly! It was a lot of fun).
We were both excited when we were matched up and realized that we lived so close to one another (about 15 mins). So, we decided it made a lot more sense to get together to exchange our goodies than to spend the money to ship them. Plus, it was a great excuse to grab dinner together at Panera Bread ;)
Unfortunately, we didn't quite get together in time for Valentine's Day (missed it by one day!), but after getting pummeled by two huge, record-breaking snow storms back-to-back, we had to do some rescheduling (and the snow almost thwarted us again last night!).
However, it was well worth the wait. We had a great time chatting, networking, getting to know each other, and, of course, exchanging our v-day goodies!
Steph got me a beautiful wrist strap for my camera. She read how I've been longing for an SLR and got the strap for me as inspiration (how thoughtful!). It's also perfect for my current camera and I love the fabric she picked:
I was also very excited to see how much she enjoyed my gift: a record bowl filled with conversation hearts, a "Love" banner made with felt, rick-rack, and felt buttons, and a little Valentine's Monster for her son, E (check out her
v-day exchange post
- there's an
adorable
picture of him cuddling it that made me super happy).
The Valentine's Day Blog Exchange was great fun. Thanks again for camera strap, Steph. I love it! And, of course, big thanks to Holly for organizing.